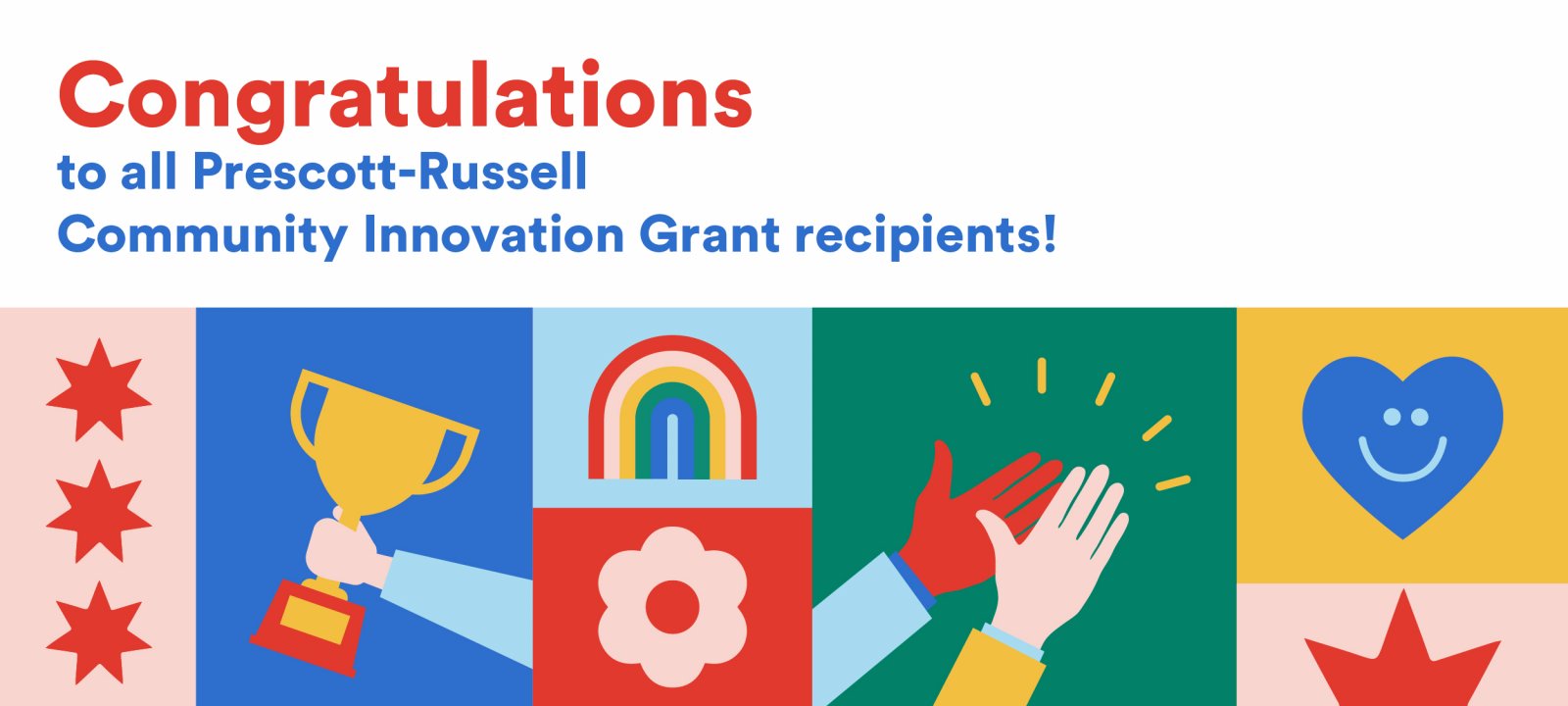 Grant recipients
Thanks to all individuals and organizations who applied for the Prescott-Russell Community Innovation Grant. The selection committee reviewed 29 applications and selected projects that received the highest scores. A total of $140,000 will be distributed to 16 grant recipients along three funding streams:
Up to $3,999
Drums Alive with the Regroupement Autisme Prescott-Russell
The "Drums Alive" program will be offered to participants of the Regroupement Autisme Prescott-Russell once a month in Embrun at the Garderie Des Amis during the "Dimanche Répit" days for the 2021-2022 program (10 meetings). The purchase of the material will allow the project continuation for the next years. Drums Alive combines musical rhythms and physical conditioning, contributing to the development of fine and gross motor skills as well as improving one's sense of rhythm. It helps community members create rhythms in a group and find their place and sense of belonging as an essential member of the group. Drums Alive can be done standing up or sitting down and is wheelchair accessible. This program offers physical and psychological benefits for people who participate.
Pieds sur terre: Eco-social intervention program through sport and outdoor activities for youth aged 18 to 30
This project is a research-intervention that mobilizes various community partners to study an eco-social intervention program through sport and outdoor activities designed for Francophone youth (18 to 30 years old) in the Prescott-Russell region. The program aims to increase the mental and physical health of youth in our region through programming that integrates physical activity, psycho-education, connection to self, other and nature, and the development of a sense of belonging. For more information on the program or to register, please visit Le Centre Mana Centre.
Russell Art at Night
Russell Art at Night is a new outdoor event that will be hosted once a year by the Russell Agricultural Society. The event will showcase local artists, including musicians and performing artists, while also offering up a selection of local cuisine or "flavours".
French Language Training
The Township of Russell Public Library will offer a French Language Training program at their Russell Branch. The program aims at increasing social connection and is an opportunity for the public to get out and socialize in a safe manner while learning new skills. It will help community members improve their confidence when speaking French in a non-formal social setting and provide the participants a safe place to practice their French oral speaking skills.
Healthy cooking
The Healthy Cooking program includes two initiatives. The first is a meal kit for 20 families and then a Zoom meeting where families will prepare the meal together. This will help young children (7 and younger) as well as their family to learn healthy cooking. The second initiative offers two series of four cooking classes to families who financially cannot afford such activities or families in need. This would consist of offering healthy cooking classes for children 8 years and older with a parent.
Community Fridge
A community fridge is to be located at the entrance of the Russell Township Sports Dome and provides a safe secure area for residents in need to access foods donated by residents, businesses or organizations.
Developing partnerships for accessible perinatal support
A doula is a trained and experienced person who provides physical and emotional support to a pregnant woman before, during and after the birth. This project, starting in the fall of 2021, aims to build three new distinct partnerships with the Hawkesbury General Hospital (HGH), the Eastern Ontario Health Unit (EOHU) and the Ruby Medical Clinic of Hawkesbury (RMHC). These new partnerships aim to, in the medium term, set up a program that would offer doula services on a non-voluntary basis. It would provide people in the region with quick and guaranteed access to a doula and serve the currently unmet needs of our community and mothers giving birth in Hawkesbury.
From $4,000 to $14,999
Integration and social inclusion of people with intellectual disabilities through employment
This project, created by Groupe Convex, one of 17 organizations that make up the Forum régional francophone, aims to design and implement a guide for employers to promote the social inclusion of people with intellectual disabilities, in particular in the Prescott-Russell region. In addition to promoting a greater openness and awareness towards people with intellectual disabilities, the guide will serve to recruit new employers allowing to offer internship opportunities and rewarding jobs. The Regional Forum is planning to organize an awareness campaign in which the guide will be launched throughout Eastern Ontario. As part of the project, four workshops will be held with employers in the Ottawa, Prescott-Russell, Stormont, Dundas & Glengarry and Renfrew regions. The guide will be available in digital and interactive versions on the web.
Vankleek Hill Food Bank Garden Expansion
In the summer of 2021, the VKH Food Bank Garden started the pilot project Teaching the value of growing your own food at The Grand Barn Community Garden With the grant, this project will expand into fall 2021 and include more gardening beds for clients, larger beds for those who were part of the pilot project and raised beds for those with mobility issues. The project also includes the creation of a garden tool lending library and the presence of guest speakers to help clients have easy access to the tools and knowledge that they need to have a plentiful harvest and lessen food insecurity in the community.
Sports Equipment Lending Library
The Nation Municipality aims to create a sports equipment lending library by purchasing a variety of sports equipment which will be kept at the St-Isidore Recreation Centre and the new Limoges Sports Complex. These two buildings will be staffed and open to residents nearly seven days a week to offer more opportunities for residents to borrow the equipment for up to three days at a time for free. The project's goal is to break down financial barriers to sport and encourage families to come and borrow the equipment so they can try out new sports and be physically active together without having to spend money. The equipment will include snowshoes, tennis rackets and balls, pickleball sets, badminton sets, various balls such as footballs, soccer balls, basket balls, bocce sets, ladder ball sets, golf clubs, volleyballs, and dance and throw kits for children.
Journée internationale de la fille : Ma voix, l'égalité pour notre avenir et Ma voix, ma place, mon futur
This project aims to encourage and nurture leadership in Francophone girls and young women from 13 to 18 years old, as well as to raise awareness, promote and encourage their participation in public spaces, using their voices and contributing to the leadership capacity building of young women in the Prescott-Russell region. After community consultations, Leadership féminin Prescott-Russell's Youth Leadership Committee, in partnership with Interlude House and several other collaborators are proposing three virtual activities in conjunction with International Day of the Girl Child. These include a conference, panel discussion, and social networking campaign.
Ballados Horizons Podcasts
The Horizons Podcasts projects will engage 12 high school youth (6 French, 6 English) from 7 Eastern Ontario communities to create podcasts on universal themes such as compassion, selflessness, respect for self and others, how to manifest change, how to find inner calm, etc. by interviewing people in their community who are experts or have life experience or something to say on the subject. The youth will be mentored by a professional interviewer on how to develop good interview questions and topics, proper pronunciation and speech rate to ask their questions, how to handle microphones and recording environments, and will teach youth all aspects of post-production and sound editing. Podcasts will be available on a dedicated YouTube channel. The project will help teach youth, share with them work ethic, and help develop their skills.
Accompanying Mothers
This project aims to accompany, free of charge, close to 70 mothers and their families in the matrescence, or the transition for women who become mothers, from pregnancy, giving birth, to post-partum life and adaptation as a parent. Run by and for moms, this project will continue to offer a listening and support line, a 12-hour in-home or virtual support service, and be able to follow up on the currently unmet needs of the community, while facilitating access to peer-to-peer exchanges and the birthing support services offered by the local doula network.
Community-engaged Artist Residency Pilot Project
This innovative pilot project is about belonging, inclusion, strengthening social connections and mental health in the Prescott and Russell area and surrounding areas. It will provide community workshops and talks, and exhibitions open to the community for the creation of virtual content (workshops and video-capsule to conclude the first phase of the project). This is part of a larger project that will be completed in 2022-2023. This project has two facets - the first is to offer a work and creation space to two artists who have (or wish to have) an artistic practice rooted in the community. These artists will develop community art projects that involve one or more community groups or partners (schools, homes, community centers, etc.) by offering workshops that will also be broadcast virtually. The whole project will be concluded with an exhibition to present the art projects. The second facet is the creation of opportunities for community engagement through the arts: the entire community can benefit from the projects that will be created and presented by the artists who will engage the community in the design and co-creation stages.
The art of being a mother
This project aims to facilitate bilingual expressive and intuitive painting workshops for mothers in Prescott and Russell who have given birth to newborns during the COVID-19 pandemic. The workshop will be given four times and at three different locations in Prescott and Russell. A virtual option will also be offered. There will be an additional workshop offered to all participating moms and their babies/toddlers to help mothers and children connect and share their experiences. To learn more or to register, visit Shanna Steals.
From $15,000 to $30,000
Fill me up with food and love
The Rotary Club of Hawkesbury will expand on the existing Meals on Wheels program by offering clients one fresh meal for free on top of their weekly order. Since the beginning of the pandemic, the organization has been giving out three frozen meals per week (about 1000 a week) to individuals that are having a hard time. The expansion will help those who haven't received free meals yet, but who would be grateful to receive a lunch once a week. The project will create a partnership with elementary schools, both English and French, to have students write a note to be included in each meal. During the last week of deliveries, a reunion between the students and the recipients will be organized to create a stronger sense of community.